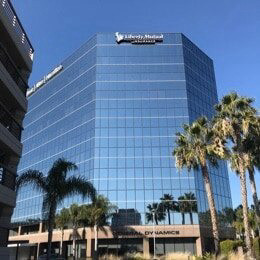 San Diego, CA
1615 Murray Canyon Rd, Ste 200
San Diego, CA 92108
Hours:
Monday:
By appointment only
Tuesday:
By appointment only
Wednesday:
By appointment only
Thursday:
By appointment only
Friday:
By appointment only
Saturday:
By appointment only
Sunday:
By appointment only
More contact information
1-800-650-2965 (Toll-Free)
1-858-278-2985 (Fax)
About our office
At the Liberty Mutual office in San Diego, trained local agents can help you find the coverage you need, and the discounts you deserve. Our San Diego office is located in the Kearny Mesa area, off of Ruffin Rd.
Since 2002 our office has proudly served Mission Valley, downtown San Diego, Point Loma, Kearny Mesa, Mira Mesa, Chula Vista, Santee, Coronado and La Jolla.
Causes close to our hearts
Our representatives participate in a number of community activities including:
Participating in the San Diego and Hispanic Chambers of Commerce.
Volunteering at local organizations through our Serve with Liberty program.
Talk to a Liberty Mutual Agent Today
Contact a sales representative today to learn more about which auto insurance, home insurance, and life insurance options are best for you and your family.