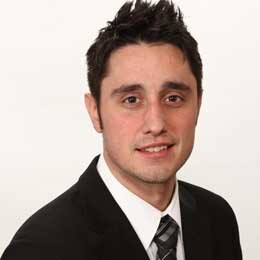 Mason Curry
Senior Sales Representative
Saint Louis, MO
Get a quote with
Mason
Begin your free online quote
Get a quote with
Mason
Begin your free online quote
Get a quote with
Mason
Begin your free online quote
My office
12444 Powerscourt Dr, Ste 100
Saint Louis, MO 63131
I am excited about the wide range of cost-effective programs Liberty Mutual has to offer. I graduated from University of Iowa and majored in theatre. At Liberty Mutual, we are committed to offering affordable insurance programs to help you lead a safer more secure life.
Please contact me today to learn more about our complete coverage plans designed to protect you, your home, and your automobile.
Get to know my team
Chantel Lyle
Sales Associate
Hello my name is Chantel Lyle and I have been a Sales Associate with Liberty Mutual since 2018. I work alongside Mason Curry, a top sales agent with the company. I have previously worked in the real estate field and I'm also a former law enforcement officer. I enjoy spending time with my family and anything outdoors or fitness related. The best part of my job is helping people! I am committed to finding the most competitive rates for my clients while offering a superior level of service. Contact me so that I can protect you!
Laila Mc Ghee
Sales Associate
Hi, my name is Laila Mc Ghee and I am a Sales Associate for Mason Curry. I began my career at Liberty Mutual in 2018 and brought with me many years of sales experience in other fields. I have learned a lot from being on Mason's team and look forward to many more years with Liberty Mutual. I graduated from Indiana University in 2002 with a double major and have three children. When I am not helping clients with their insurance needs, I enjoy the outdoors, running, and spending time making memories with my kiddos. I am committed to providing quality insurance coverage at affordable rates, and look forward to the opportunity to offer you comprehensive and cost-effective insurance solutions here at Liberty Mutual.