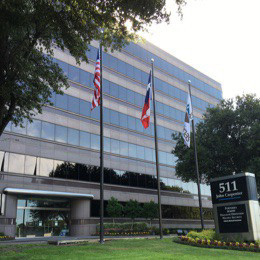 Las Colinas, TX
511 E John Carpenter Fwy, Ste 180
Irving, TX 75062
Hours:
Monday:
By appointment only
Tuesday:
By appointment only
Wednesday:
By appointment only
Thursday:
By appointment only
Friday:
By appointment only
Saturday:
By appointment only
Sunday:
By appointment only
More contact information
1-800-971-0400 (Toll-Free)
1-855-622-9150 (Fax)
About our office
At the Liberty Mutual office in Las Colinas, trained local agents can help you find the coverage you need and the discounts you deserve. Our Las Colinas office is located along East John W. Carpenter Freeway, between Brazos Drive and Riverside Drive. Visitor parking is in the back of the building by entering on the left side driveway.
We proudly serve the communities of Irving, Dallas, Addison, Carrollton, Farmers Branch, Coppell, and Hurst-Euless-Bedford.
Causes close to our hearts
Our representatives participate in a number of community activities including:
Participating in the Firemark Award and Child Finger Printing programs.
Actively working in the Irving-Las Colinas, HEB, CFB, and the Metrocrest Chambers of Commerce.
Talk to a Liberty Mutual Agent Today
Contact a sales representative today to learn more about which auto insurance, home insurance, and life insurance options are best for you and your family.