Renters Insurance
Get customized renters insurance for as low as $5 a month*
Enter your ZIP code to start your custom renters insurance quote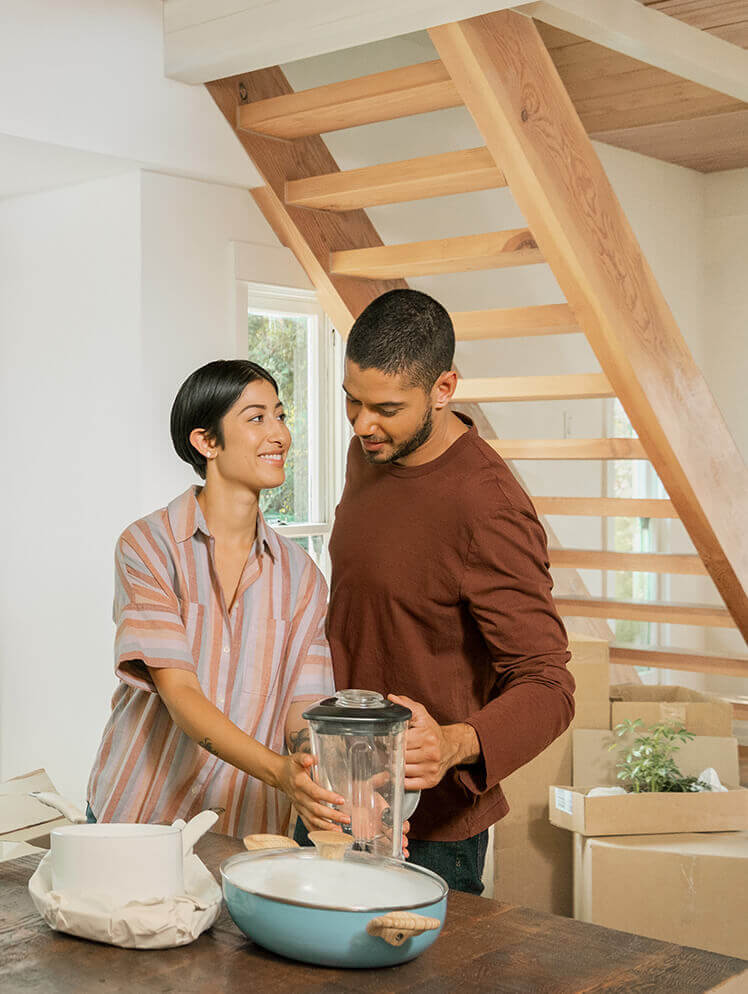 Low cost customized renters insurance.
Liberty Mutual offers comprehensive, customized renters coverage to protect your belongings at a wallet-friendly price. That's why we've been ranked as one of the best companies for renters insurance discounts! Don't just take our word for it, start a free quote and find out why.
What is renters insurance?
Renters insurance is for tenants renting an apartment, condo, or home. It typically provides coverage for your belongings from damages such as fire and smoke, vandalism, theft, and some weather-related incidents too. It also protects you financially if a visitor to your home gets injured and takes legal action.
It's important to note that renters insurance is different from home and landlord insurance, both of which are intended for property owners and won't provide the specific coverage a renter needs.
What does renters insurance cover?
Renters insurance generally protects the following for a renter:
Temporary living expenses
Additional renters coverages can be added to a policy, including special coverage for jewelry and/or other high value items.
We help you customize your insurance so you only pay for what you need.
Does renters insurance cover my things outside of my rental unit?
Yes! No matter where you are, your personal property is covered. Renters insurance is protection that goes with you.
In your car. Even though you hid your tablet and camera under the seat, both are stolen.
On vacation. Sprinklers go off in your hotel room ruining your laptop.
On the go. Moving? Your policy will protect your belongings 30 days from the day you start the move.
How much is renters insurance?
For as low as $5 a month, renters insurance from Liberty Mutual is a surprisingly cheap and affordable way to keep the things you love safe and protected.
However, how much you pay depends on a number of things, including where you live, the value of your belongings, and how much coverage you want. Renters insurance shouldn't be one-size-fits-all, that's why it's so important your personal needs are accounted for. When you get a renters quote with Liberty Mutual, we'll make it easy to understand the coverage that's right for you, so you only pay for what you need.
Begin your free online quote
Who is renters insurance right for?
It's simple – if you rent your home and wish to protect your belongings, then renters insurance is right for you. Some landlords or residential management companies may even require it before you sign your lease.
We offer coverage for every type of rental property, including:
Small apartments
Large apartments
Stand-alone homes
Townhouses
And more
The amount of coverage you need will depend on how much stuff you own and want to protect, not the kind of home you rent.
How much renters insurance coverage do I need?
While coverage will ultimately depend on how much stuff you need to protect, coverage of $15,000 for personal belongings and up to $100,000 in liability coverage, with the option to add on additional coverages, is often sufficient.
Determining how much renters coverage you need begins with how much stuff you need to protect.
Your belongings
The more stuff you need to protect, the higher the limit you should consider. Take inventory of your belongings before quoting, that way you have a better general idea of the coverage limit you'd like to select. This includes your clothes, electronics, furniture, kitchenware, jewelry, and other items you own.
Your liability
Liability comes standard with a Liberty Mutual Renters policy. This coverage means you're protected if you, your family member, or your pet injures someone or damages their property.
You can also consider no-fault medical coverage, which means your insurance company will foot the bill for someone's medical bills if they're injured in your home.
Your policy's liability portion could also cover the cost of a lawyer to defend you in court and the cost of court awards, up to your policy's limit. These limits usually start at about $100,000, but you can choose to buy more coverage.1
Finally, here's a helpful way to think about the cost of your renters policy:
More coverage + lower deductible = higher premium
Less coverage + higher deductible = lower premium
Understand your renters coverage options
Personal Property
Your place is broken into and your bike is stolen. This coverage will help you replace your bike.
Liability & Medical Payments
Someone slips on your kitchen floor and breaks their wrist. This would protect you from a legal claim the person may bring against you.
Additional Living Expenses
A pipe bursts in your apartment and it becomes unlivable. This will help pay for temporary lodging while the pipe is fixed.
Personal Property Replacement Cost
Your car is broken into at home and your cell phone is stolen. This will cover the cost of a brand new phone.2
Blanket Jewelry
After taking your engagement ring off at the beach, you find you've lost it in the sand (gulp). This will help you get a new one.
Earthquake Damage
Your neighborhood suffers an earthquake, causing items on your shelves to fall and break. Your shelves and those items will be covered.
We're ranked best for renters insurance discounts3
Don't just take our word for it, The Simple Dollar has named Liberty Mutual best for renters insurance discounts. Find out how much you can save when you start your renters insurance quote.
Convenience and savings — need we say more? Combine your policies and get a discount.
Online purchase discount4
Buy your policy online and save. It's that simple.
Looking for some advice? We can help.
Begin your free online quote
Renters insurance: Common questions
Your landlord may be insured, but that doesn't necessarily mean you're protected in the event of an accident.

Landlord insurance covers the investment of the landlord, e.g. their property. This includes:

Property damage due to weather; this includes interior damage that may impact the renter, including ceiling and wall damage
Vandalism to the exterior of your home
Water damage in the event of a pipe burst

We hate jargon as much as you do, which is why we've broken down the most common terms you'll want to understand when comparing, purchasing, and using renters insurance.

Deductible
The initial amount you are responsible for before coverage kicks in. In most cases, this amount is simply deducted from your payout after a claim. For example, if your deductible is $500 and you have a $2,000 claim, you will receive $1,500.

Premium
The total amount that you pay for an insurance policy.


Actual cash value
The current market value of lost or damaged property at the time of loss. This usually factors in depreciation (the devaluation of something over time).

Replacement cost
The cost to replace a damaged item with a new brand new one.

Additional living expenses
Any necessary expenses you incur while you're unable to be in your home due to a covered loss.

An endorsement on your policy is an "add-on" to your policy, typically for a specific item, such as a special piece of jewelry or heirloom.

Getting a renters insurance quote is easy with Liberty Mutual. All you need is:

Basic information about yourself
Basic information about your rental property
An estimate of how much your belongings are worth
Any additional people such as a roommate or spouse you want on your policy
1
Depending on the tort (grounds for a civil lawsuit) alleged
2
Optional coverage. Subject to a deductible. May vary by state
3
Source: https://www.thesimpledollar.com/insurance/home/best-renters-insurance/
4
NOT AVALIALBE IN CA. Not available in all states. Discount applies to base policy coverage, not optional coverages or endorsements
* Not available in all states