Simple tips for moving with pets
Moving can be a particularly stressful experience for your furry friends. Keep your pets calm while moving by following a few easy steps before, during, and after your move.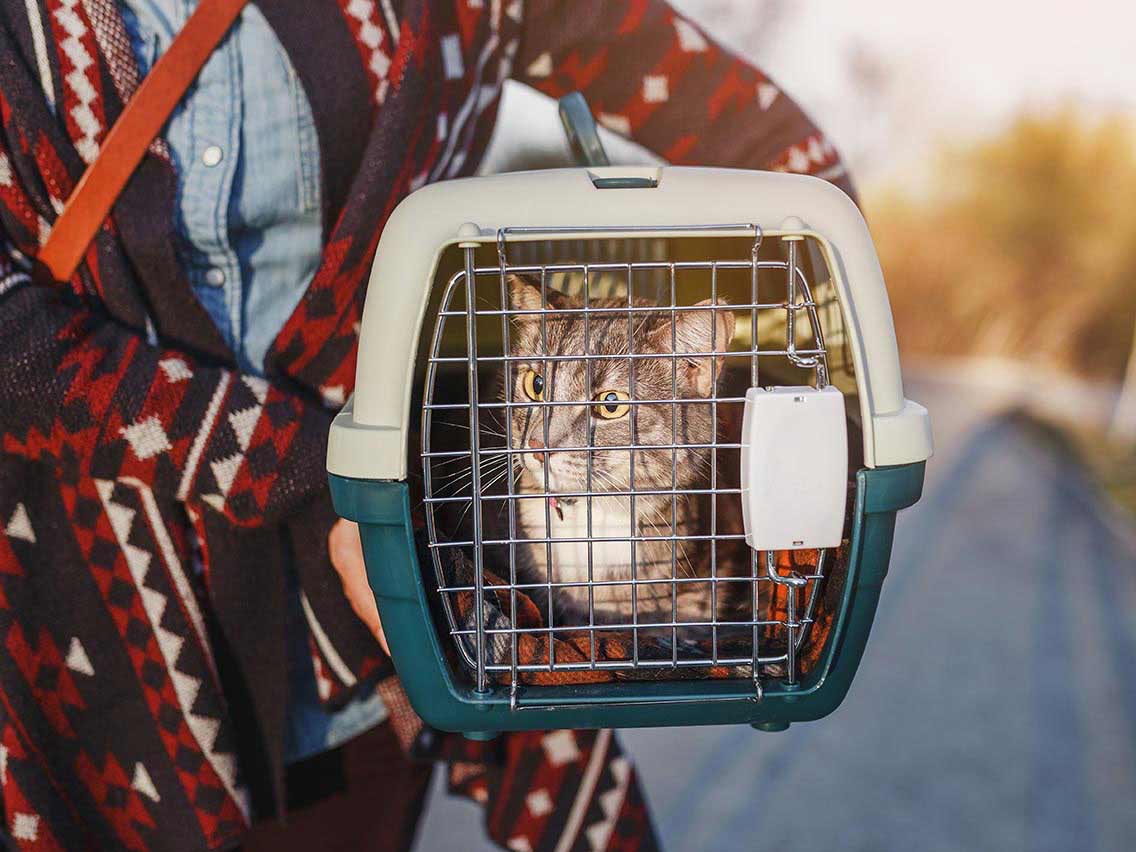 First, and most important
Always be aware of your pet's needs and overall health. Watch for irregular behaviors and signs of stress, such as decreased appetite, excessive sleepiness, digestive problems, inappropriate urination, and aggression. Talk to your veterinarian immediately, if any symptoms arise.
Before the move
Update your pet's ID tags: Ensure the ID has up-to-date contact information. If they're not microchipped, talk to your veterinarian about having them chipped.
Acclimate your pets to their carriers or crates: Keep the crate in an accessible place in your home, so your pet can nap, play, or eat there. Associating the carrier with positive experiences will remove a lot of the 'where am I going?' fear.
Take pets for short car rides in the carrier: This is especially important if they're not already used to road trips. If possible, visit the new house or new apartment so it's familiar on moving day. Follow it up with treats and extra play or cuddle time.
Talk to your vet to obtain any appropriate medications and advice: Consider getting a pet insurance policy because if you end up having an emergency during your move, the last thing you want to worry about is a hefty bill from your vet.
Moving day
If possible, send pets to a friend or family member's home where they will be more comfortable. Otherwise, keep them in a quiet room with the doors closed. Stock it with the necessary supplies (like food, water, toys, etc.). Place a sign on the door so people are aware of its occupants.
Stick to your pets normal routine as much as possible. Set timers to remind yourself when to feed and walk them.
For their own safety, keep pets crated or leashed during travel.
Pro tip: Have a pet travel bag with all of your pet's medications, rabies/health paperwork, food, treats, leashes, and clean-up bags.
After the move
Allow pets to safely explore the sights and smells of your new home. For cats, it's often a good idea to start small, letting them check out one room at a time and gradually opening the rest of the home over the next few days. It may help pets become more acclimated if they see familiar items at the new home.
Begin your free online quote
Please note: Information presented on this page is intended to be general information about insurance and is not specific to Liberty Mutual policies. Policies and coverages vary by state and insurer. Contact your insurance company to understand specifics regarding your policy and coverages.