Does car insurance cover the car or driver?
Wondering whether your car insurance protects the driver or the car? Here's what you need to know to help protect yourself and whoever drives your car.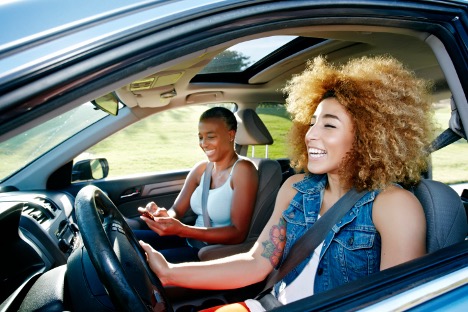 Does car insurance follow the car or the driver?
In general, auto insurance follows the car. However, whether or not coverage follows the car or the driver depends on
The state you live in
Your insurance company
If the driver has permission to drive your car
Coverage also depends on if the driver is listed as an insured on your auto insurance policy.
For example, if your spouse, partner, children, siblings, parents, or other family members are listed on your policy as authorized drivers and borrow your car, they'll typically be covered.
If you aren't sure about your coverage or specific situation, contact your insurance company.
If someone borrows my car and gets in an accident, who's responsible?
Typically, your auto insurance policy extends to anyone who has permission to use your car. So, if you let a friend borrow your car and they're in an accident, your insurance company may pay the claim.
Even if your friend has their own car insurance, your insurance company would likely be primary. This means you're responsible for
Filing the claim
Paying the deductible, rental car expenses, towing costs, etc
You may also get a rate increase because of the accident
If your friend was in an accident and not at-fault, then the responsibility would be on the at-fault driver and their insurance company to pay for the damages, if you don't live in a state with no-fault insurance.
Different insurance companies may have different limitations. When considering letting someone borrow your car, check with your insurance company so you know what can happen if there's an accident.
I allow certain people to borrow my car. Do I need to list them on my auto insurance policy?
Yes. Whether it's occasional or on a regular basis, if you share your vehicle with other licensed drivers, you should add them to your auto policy.
By listing a driver on your policy, you ensure that if there's a covered loss, you and the driver are covered.
I belong to a membership-based car sharing service. Will my auto insurance cover other drivers who pay to borrow my car?
If you belong to a car sharing program where others pay a fee to borrow your vehicle for short trips, your auto insurance will most likely not extend to other drivers.
In most cases, you need to buy additional insurance coverage if you engage in this type of service.
See how much you could save on car insurance when you only pay for what you need.
Begin your free online quote
Please note: Information presented on this page is intended to be general information about insurance and is not specific to Liberty Mutual policies. Policies and coverages vary by state and insurer. Contact your insurance company to understand specifics regarding your policy and coverages.