I've decided to sell my car. Now what?
Want to sell your car but don't know where to start? Here you'll find the information you need to help you decide how and where to sell your car, how much it's worth, how to prepare it for sale, and what to do about car insurance after you sell.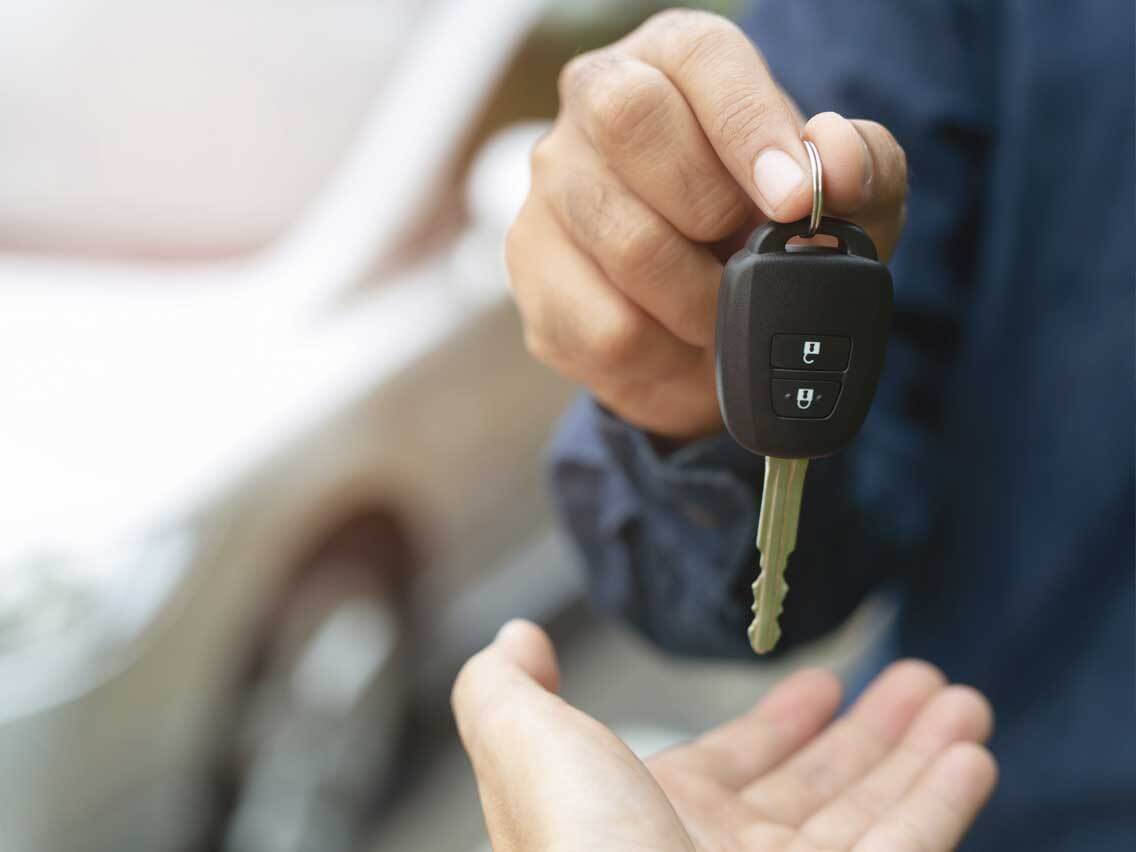 Your car has served you well, but now it's time for you and it to go your separate ways. Whether you gave it a name or called it names, whether you're ready to say goodbye or relieved to say good riddance, we can help. Read on for important info about ways to sell, how much your car is worth, gathering materials, prepping your vehicle, and how the sale will affect your car insurance.
What's the best way to sell my car?
You have three choices, and you're probably familiar with the first two—selling it yourself or trading it in at a dealership. The third may not be top of mind, but it's worth considering; you can sell your car to CarMax. Each option has pros and cons.

Why sell it yourself? You can probably make the most money on the sale. If you have extra time, want to do the research and advertising, and don't mind negotiating with people you don't know, selling it yourself could be the right choice.

Trading your car in at a car dealership eliminates the hoops you jump through to sell it yourself. No ads to place online or elsewhere. No strangers leaving voice messages or emails. The downside? There are many moving parts in this transaction, and the dealer knows more about these parts than you do. A dealer can make what seems like a generous offer for your trade-in, but you could end up paying more for a new car or its financing.

Now let's look at selling to CarMax. Again, you skip all the hassle of selling on your own. Depending on where you live, you can bring your car to be appraised at CarMax or get a CarMax instant offer online (more on that later). Either way, you get a written, no-obligation offer on the spot, and it's good for seven days. You can think it over or use it as a baseline for negotiating if you decide to sell it yourself or go to a dealership.
How much is my car worth?
To sell a car yourself, you'll need to set an asking price. If you go to a dealer, it helps to know how much you should expect to make on your trade-in. Knowledge is power, as they say. But where do you start?

If you favor face-to-face communication, you can take your car to a dealer or CarMax for an appraisal. CarMax buys hundreds of thousands of cars each year, so they have a streamlined process. They provide a custom offer, in writing, and you can leave with payment in hand or take seven days to decide.

If you'd rather research on your phone or laptop, there are many websites that provide estimates or ranges, but few that give you an actual offer. It's suspected that some provide offers but give your personal information to dealers.

A CarMax instant offer tells you exactly how much CarMax is willing to pay for your car. No personal information required. Their instant offer is good for seven days and can be redeemed at any CarMax location. Even if you don't plan on selling your car to CarMax, it can be helpful to have a guaranteed offer for your car when negotiating with dealers or private parties.
What papers and other things do I need?
Rules vary from state to state. You should check your state's DMV website to make sure you have the proper documents, but here's a basic list of items you should gather to help sell your car faster or complete the sale properly.
Title. If you have the title, you own the car. Great! Just sign it and hand it over to the buyer to complete the sale. If you don't have the title, you may need to contact your bank or finance company to complete the sale. Find helpful info about your title here.
Valid photo ID for all owners.
Valid vehicle registration.
All keys and key fobs.
Basic info about your car. The vehicle identification number (VIN), maintenance records, warranty document, and a list of your car's standard and optional equipment aren't legally required, but knowing this information could help your sale go more smoothly.
Bill of Sale. This form isn't required, but it can come in handy if issues arise after the sale. You can download it free from several online sites.
Keep in mind that both the seller and buyer have responsibilities during and after the sale in some states. Again, check your state's DMV website to see exactly what you need to complete the deal.
How should I prep my car for sale?
If you're selling a car yourself, you can improve its curb appeal by having it detailed or cleaning it yourself. You should also consider fixing any known mechanical problems. If you're trading in your car or selling it to CarMax, you can remove all personal items, but cleaning isn't necessary. To experienced, professional car buyers, beauty is more than skin deep. They focus on long-term maintenance and care of your car when determining your appraisal offer.

During the COVID-19 pandemic, selling a car yourself is more challenging, as it may be impossible to avoid close contact (within 6') during a test drive. As a precaution, you may want to consider allowing potential buyers to test drive your car alone. Before and after test drives, remember to clean and disinfect your car. For more details, check the CDC guidelines. One final, common-sense precaution. If you sell your car during the pandemic, don't seal the deal with a handshake!
What happens to my car insurance when I sell?
When you first decide to sell your car, you might be tempted to cancel your car insurance policy before you complete the sale. That would be a mistake. As long as you own a vehicle, you're responsible for damages sustained while anyone is driving it. And many states level serious fines and other penalties for driving without insurance. Maintain at least a minimum level of coverage as long as the car is titled and registered in your name.

Once your car is sold and all the paperwork has been signed, cancel or suspend your current car insurance policy. The same advice applies if you traded your car and bought another vehicle. As you're shopping for car insurance quotes, be sure to look for options that protect you and your new ride. If your new vehicle is more valuable than the car you sold, just keep in mind your insurance rate may rise. When you quote with Liberty Mutual, you can customize your insurance so you only pay for what you need.

A final word to the wise: If you sell on your own, some private buyers might ask you to extend your car insurance for a few days or weeks. Don't. As soon as you transfer ownership, any claims will be denied. The buyer must purchase their own car insurance.
*This article contains information and content provided by a third party. Liberty Mutual Insurance may receive financial support for providing this information.
Begin your free online quote
Please note: Information presented on this page is intended to be general information about insurance and is not specific to Liberty Mutual policies. Policies and coverages vary by state and insurer. Contact your insurance company to understand specifics regarding your policy and coverages.