Homeowners Insurance
Save on your home insurance with a customized policy
Enter your ZIP code to start your custom quote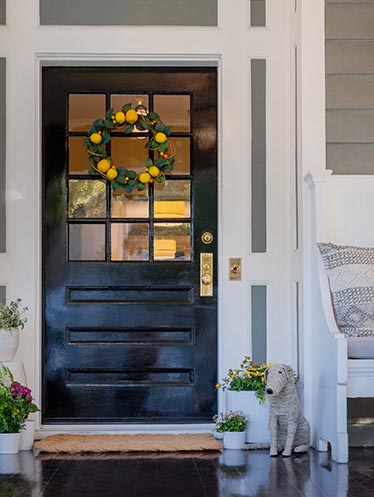 Save on home insurance with a customized policy.
Protecting your property from weather, theft, fire, or other damage is crucial. With Liberty Mutual's coverage, we can help you do just that by ensuring your biggest investment is well protected. A homeowner's policy will also help protect you if someone is injured or hurt on your property - making sure that not only your home is secure, but your assets are as well. Start a quote to begin customizing coverages for your home insurance policy, so you only pay for what you need.
What does homeowners insurance cover?
Your home and any other structures, like a shed
Fire, water, and weather damage
Damage to someone else's property
Medical bills if someone is hurt at your home
A place to stay if your home suffers damage that makes it unlivable
We customize your insurance so you only pay for what you need.
What is home hazard insurance?
Hazard insurance describes a type of home insurance coverage that covers catastrophes, like fires and severe storms. Damage to your home from things like hail, strong winds, smoke, and fire are all considered to be in this category. Depending on your state, you may be required to purchase specific types of hazard insurance, such as hurricane coverage.
Liberty Mutual offers a number of standard and custom coverages that can protect your home from hazard damage.
How much is home insurance?
Things that impact the cost of home insurance
The location of your home and the surrounding environment.
The type of weather your state experiences.
The age of your home.
If you have recreational features, like a swimming pool or trampoline.
Generally, the less risk you have the lower your price may be. It all depends on your unique needs. Keep in mind that you can lower the cost of your premium by increasing your deductible, if you prefer.
Understand your homeowners coverage options
The best homeowners insurance policy is the one that meets your needs at the right price. Get a better idea of what a home insurance policy could look like for you by getting familiar with your coverage options, so you only pay for what you need.
Dwelling
A fire in your kitchen results in damage to your space. This will help cover the cost.
Personal Liability
A neighbor slips and falls, breaking their wrist at your house. If the person decides to take legal action, you'll be covered.
Wind/Hail
A bad hail storm causes damage to your windows. This will help you get them repaired.
Hurricane
Your roof suffers damage when a hurricane sweeps through. This will help to cover the repair cost.
Personal Property Replacement Cost1
Your TV is stolen. You'll be covered for the cost of a brand new one to replace it (rather than it's depreciated value).
Water backup coverage2
Due to a sump pump backup, your bathroom sink overflows and causes water damage to your first floor. This coverage will help you get it taken care of.
Explore home insurance for your state and get a quote
Homeowners discounts that help you save
We take savings seriously. Check out some of our most popular homeowners insurance discounts.
Online Purchase Discount
You could save instantly when you purchase your policy online.4
You could save $842 on customized auto and home insurance.3
Newly Purchased Home
Congrats on your new home! Enjoy some celebratory savings with your policy.4
Looking for some advice? We can help.
We've got all your property insurance needs covered
Begin your free online quote
Common homeowners insurance questions
The cost of your homeowners coverage is largely determined by five factors:

Location

Risks like extreme weather, crime rate, and distance to a fire station all can impact your rate. For example, you might pay more for waterfront property or if you're located in an area prone to mud slides. Construction costs also vary by region, which is another factor that determines your homeowners rate.

Estimated replacement cost

This is different from the current tax assessment or market value of your home, and accounts for the actual cost to rebuild the structure of your home. For example, if your home was destroyed in a storm, how much would it cost to rebuild it? That amount is the replacement value. Not only are materials and labor considered, but inflation and availability of building materials.

Age and condition

This is determined based on very specific details like building materials, age of the roof, and the furnace's condition. For older homes, we also factor in whether the building materials are still available and their current market price.

Safety devices

Having dead bolt locks, a burglar alarm, smoke detectors, and other home safety features will all help you stay safe and lower the cost of your home insurance policy.

Your deductible

In short, the lower your deductible (the initial amount you pay out-of-pocket before coverage kicks in), the higher your premium (the total amount that you pay for an insurance policy).

It's not always easy to know the difference between certain terms when it comes to insurance. Let's clear up exactly what the most important ones mean.

Deductible

The initial amount you are responsible for before coverage kicks in. In most cases, this amount is simply deducted from your payout after a claim. For example, if your deductible is $500 and you have a $2,000 claim, you will receive $1,500.

Premium

The total amount that you pay for an insurance policy.

Dwelling

Another term used to describe the part of your home insurance policy that covers the structure where you live (not a shed or other structure on your property).

Scheduled Items

These are pricier belongings (jewelry, art, etc.) that typically require additional coverage, since the standard home policy limits the amount you can claim per item.

Liability Coverage

If someone else is injured or has their belongings damaged on your property, this covers claims against you, as well as reasonable and necessary medical expenses.

You're excited about your new home, but you might be equally as nervous about a home inspection. Here are some answers to frequently asked questions to help you understand what to expect.

Why is an inspection required for my home?

An inspection may be required to confirm that the condition of your property and exposure to any hazards meet standards for an insurable home.

Where will the inspectors look?

Exterior: The outside of your home, yard, and roof.

Roof: The inspector will walk along the roof to assess its condition.

What happens with the information they collect?

The information is used to assess the condition of your home and, if necessary, make changes to your policy. Your information is kept strictly confidential.

What happens after?

Your policy may be adjusted depending on the results of the inspection to ensure that your home is adequately protected. In certain states, roof coverage may be adjusted based on the condition of the roof.

How will I be notified about the inspection?

You will receive a postcard in the mail, as well as a call from the inspector to confirm the details of the inspection.

Will the home inspector take precautions during the Covid-19 pandemic?

Absolutely. Please know that we have put a number of safety practices in place to keep you and our inspectors safe during the pandemic.

Do I need to be present for the inspection?

No. If you are home, please stay indoors to prevent contact while the inspection is taking place.

Will the inspector be wearing PPE and socially distancing when inspecting my property?

Yes. The inspector will be wearing a mask and gloves as part of our safety protocol. The inspector will also request that you stay indoors during the inspection to prevent contact.

Mold generally begins with water getting someplace it shouldn't, so while your home insurance won't provide mold-specific coverage, it will provide coverage for the primary causes, such as water damage. Put another way, insurance will cover mold remediation if it occurs as a result of covered water damage. Water back up and overflow from sewers, drains, and sump pump wells are all covered by Escape of Water, also known as "water back up coverage".

Learn more about how to prevent water back up and stop mold before it starts.
1
Optional coverage. Subject to a deductible. May vary by state.
2
Optional coverage. Not available in all states, and may vary by state.
3
$947 Savings Figure: Savings validated by new customers who switched to Liberty Mutual between 1/2020-10/2020 and participated in a countrywide survey. Savings may vary. Comparison does not apply in MA.
4
Discounts and savings are available where state laws and regulations allow, and may vary by state. Certain discounts apply to specific coverages only. To the extent permitted by law, applicants are individually underwritten; not all applicants may qualify.