How Much is Car Insurance?
Whether you're buying your first vehicle or recently purchased a new car, protecting your investment and your loved ones is critical.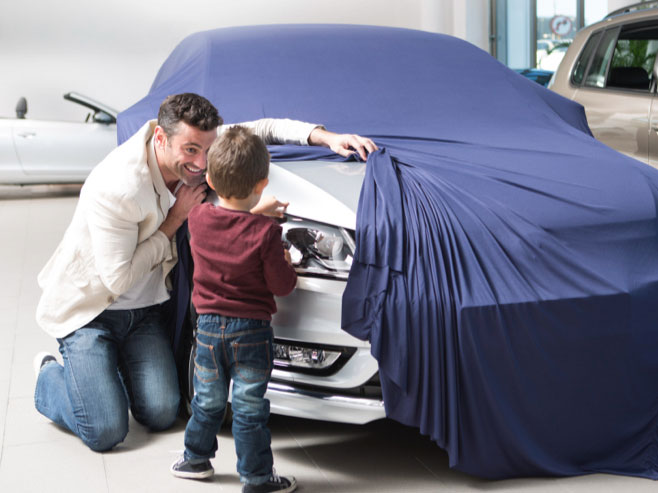 Researching for the right insurance company that meets your needs is often the first step, but you likely have questions about insurance providers, policies, and rates. When comparing quotes, you may wonder, what is the average cost of car insurance? It's helpful to understand the variables that can influence your car insurance costs.
How much is the average cost of car insurance in the U.S?
The average cost for car insurance in the United States is $1,483 per year, or $124 per month according to the Zebra.1 However, in some states you may pay as much as $211 per month, and in others as little as $80 per month. On an annual basis, auto insurance costs generally fall between $926 and $2,534 per year per vehicle, but these costs can vary based on the location, provider, and coverage chosen. Here are some of the factors that influence the cost of car insurance:
State and location
Your geographic location may play a critical role in determining the premium amount for your car insurance. The state and location where you buy an insurance policy impacts how much you'll pay for car insurance. To check how much car insurance might cost in a particular location, get a quote for the vehicle you're interested in buying with your home address.
Most insurance companies use location details, including your city, state, and ZIP Code. Your postal code typically provides the population density of your location, which insurers can use to determine accident rates and the likelihood of theft. States like California and Michigan, however, are not allowed to include ZIP Codes to determine how much car insurance costs. Some states also require Personal Injury Protection (PIP) coverage and some locations consider weather and climate when determining car insurance costs.
Learn about what car insurance is required in your state.
Age
As a driver with reliable car insurance, your rates will likely fluctuate over time, depending on your age. According to IIHS, teen drivers are 4 times more likely to cause accidents than drivers who are 20 or older. This is generally due to inexperience and dangerous driving habits. Similarly, drivers over the age of 70 are more likely to cause a crash than middle-aged drivers, but less likely than teen drivers.
Based on this data, teen and elderly drivers may pay more when buying car insurance than middle-aged drivers.
Car make and model
Most people assume that new vehicles tend to cost more to insure than used vehicles, but this is not always the case. New cars can be expensive to insure because they come with new parts and higher replacement values than older makes and models. But modern vehicles equipped with safety features and tracking capabilities, may be cheaper to insure.
Vehicle size can also affect auto insurance costs. In the past, SUVs were generally more expensive to insure than coupes or sedans, but this can also depend on the type of SUV and some models may be less expensive to insure than others. Because rates can vary widely based on car make and model, safety features, location, and individual policies, it's important to do your homework and compare rates based on your specific vehicle.
Driving history
Individuals who are more likely to get into accidents may pay more for their car insurance or might even have to purchase a high-risk auto insurance policy.
High-risk auto insurance covers individuals who have an elevated risk of accidents, primarily people with poor driving records. This auto insurance option typically means higher premiums, but rates can be reduced if the driver remedies their driving behavior by participating in a safe driving program like RightTrack® or even taking a safe driving course. If the driver's habits don't improve, their monthly car insurance rates will likely increase.
Annual mileage
When researching how much car insurance should cost, remember that insurance premiums are based mainly on the risk associated with your vehicle. High-mileage drivers are considered more likely to be in an accident than lower-mileage drivers. Many insurance providers consider your annual mileage along with additional factors like commuting miles to determine your car insurance cost and if you qualify for low-mileage discounts.
Most insurance companies ask for your annual mileage to help calculate your monthly car insurance cost. If you only use your car for your daily commute to work, you may pay less than a driver who takes multiple road trips over the course of a year.
Credit score and history
Your credit score isn't just important for your car loan, it can also influence how much you pay for car insurance. Although some states prevent insurance companies from using your credit score for an auto insurance quote, some states allow it to be used as a factor to determine your premium.
Research shows that a higher credit score combined with no previous accident claims and safe driving history can help you qualify for lower insurance rates.
Driving record
Your driving record helps answer the question: how much should I be paying for car insurance? Car insurance providers often pay attention to an individual's experience and driving record. This record can demonstrate a driver's habits and how risky they are while driving. With these considerations, your insurance company can determine your monthly payment to insure your vehicle.
If you have a long insurance history but drive carelessly, you'll likely pay more for your car insurance. Violations on driving records are associated with increased risks of vehicle damage and filing claims. Conversely, individuals with clean driving records will likely qualify for less-expensive car insurance rates and may also be eligible for additional discounts or savings that reward safe driving.
Marital status
Your relationship status can impact how much you pay to insure your vehicle. According to research, married people are considered more financially stable and safer drivers than single people. A married driver can pay up to $96 less per year for their car insurance.
Married people are also more likely to be homeowners and bundle policies. Combining auto insurance with home insurance is an easy way to save on your auto insurance premium.
How much is car insurance each month?
The cost of car insurance per month generally ranges between $110 and $130, depending on various factors including geographic location, car make and model, driving history, and more. However, auto insurance costs also depend on factors like gender, marital status, and age. Some insurance companies also offer optional coverages that can increase the price you'll pay.
How much should car insurance cost? Find quotes today
Car insurance is critical to protect your loved ones and your assets. At Liberty Mutual, we can help you understand car insurance costs and help you find a policy that works for you, so you only pay for what you need. Get a car insurance quote in less than 10 minutes.
Begin your free online quote
Please note: Information presented on this page is intended to be general information about insurance and is not specific to Liberty Mutual policies. Policies and coverages vary by state and insurer. Contact your insurance company to understand specifics regarding your policy and coverages.
1
https://www.thezebra.com/auto-insurance/how-to-shop/average-auto-insurance/