Enter your ZIP Code to start your quote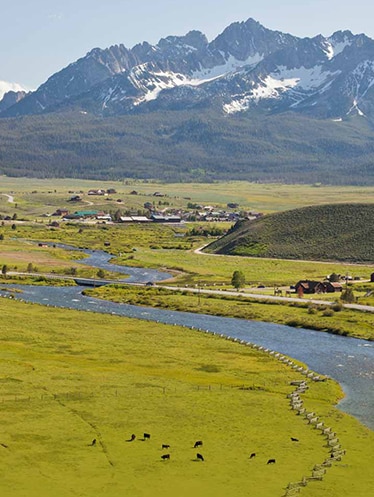 Common questions about Idaho auto insurance
Need car insurance in Idaho? Whether you live in Boise or Meridian, Liberty Mutual can help you save on car insurance! From Liability Protection to Comprehensive Coverage, we customize your Idaho auto insurance, so you only pay for what you need.
What car insurance is required in Idaho?
In Idaho, it's illegal to drive without insurance. Drivers in Idaho are required to have the following car insurance coverage
Bodily injury to others
Property Damage Liability
As of January 2020, vehicle owners need to show proof of insurance for 2 consecutive months. Failure to do so, can result in their registration being suspended. This doesn't apply to commercial vehicles, trailers, or off-highway vehicles.
Here are the minimum auto insurance limits drivers must have in Idaho.1
| Coverage | Amount |
| --- | --- |
| Bodily Injury to Others | $25,000 per person and $50,000 per accident |
| Property Damage Liability | $15,000 per accident |
Check out the Idaho Vehicle Services website for more details.
What's the average cost of car insurance in Idaho?
The average cost of car insurance in Idaho is $1,3382 in 2021 according to thezebra.com. That's 12% lower than the national average. Of course, your auto insurance cost will depend on many different factors including your age, where you live and your driving history.
Some people get the bare minimum coverage, while others prefer the comfort and security of more protection. Liberty Mutual customizes your Idaho auto insurance, so you only pay for what you need.
What Idaho car insurance coverage is right for you?
All Idaho drivers must have the state minimum auto insurance coverages. But, based on your budget and needs, you may want to consider higher limits for more protection. We'll help you customize your Idaho car insurance to get the coverage that fits you. See all of our auto coverage options.
What's the best car insurance in Idaho?
Liberty Mutual understands that everyone has individual needs when it comes to their Idaho auto insurance. Some might want the cheapest Idaho car insurance, while others want more coverage and an auto insurance company they know they can trust. Let us help you customize your Idaho car insurance, so you only pay for what you need.
Who has the cheapest car insurance in Idaho?
Getting the cheapest car insurance in Idaho may sound great, but that cheap rate can come at a cost when you need it most. You want auto insurance that's affordable, but even more importantly — reliable, in case you have an accident.
A Liberty Mutual auto insurance policy can cost less than you think.3
$731 lower than Progressive

$839 lower than State Farm
Discounts that help you save
Online Purchase Discount
Buy your policy online and save. It's that simple.4
Convenience and savings — need we say more? Combine your policies and get a discount.5
Get rewarded for your good driving behavior by saving up to 30% on your policy.6
More about auto insurance
Begin your free online quote
1
See Idaho DOI for more information: https://doi.idaho.gov/consumers/auto-insurance/required-auto-coverage/
2
https://www.thezebra.com/auto-insurance/idaho-car-insurance/#car-insurance-trends
3
Average savings validated by new customers who switched to Liberty Mutual between 10/2021 and 09/2022 and participated in a countrywide survey. Carrier-specific figures reflect average savings for customers who switched to Liberty Mutual from the listed carriers. Savings may vary. Comparison does not apply in MA.
4
Discount applies to 12% on average off auto coverages: Bodily Injury Liability, Physical Damage, Uninsured Motorist, Underinsured Motorist, Medical Payments, Personal Injury Protection, Collision and Comprehensive coverages, as applicable by state.
5
Discounts and savings are available where state laws and regulations allow, and may vary by state. Certain discounts apply to specific coverages only. To the extent permitted by law, applicants are individually underwritten; not all applicants may qualify.
6
The RightTrack® discount applies only to the base coverages on the participating vehicle, which may include Bodily Injury, Property Damage, Comprehensive, Collision, Personal Injury Protection (PIP) or Medical Payments, Uninsured Motorist, and Underinsured Motorist (subject to state availability), and excludes fixed expenses (where applicable). Initial discount may vary by state and is replaced with a final discount upon completion of a review period. Not available in all states. Coverage provided and underwritten by Liberty Mutual Insurance Company or its subsidiaries or affiliates, 175 Berkeley Street, Boston, MA 02116. © 2023 Liberty Mutual Insurance