Enter your ZIP code to start your quote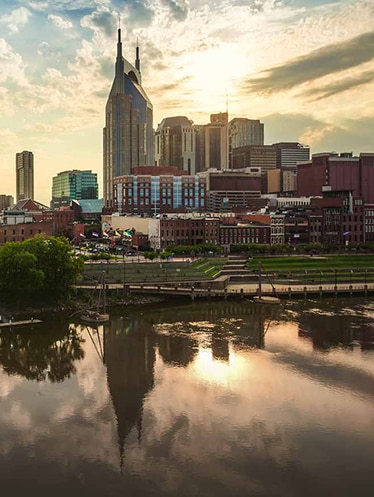 Tennessee auto insurance information
Tennessee operates under a Financial Responsibility system. This means that, should you ever get in an accident or be pulled over for speeding, you will be required to provide proof that if you were to cause any damage with your car, you would be able to cover the costs. The easiest way to fulfill this obligation is through purchasing auto insurance. The Tennessee Financial Responsibility law stipulates a minimum level of certain types of auto insurance coverage. These include:
Bodily Injury to Others: $25,000 per person / $50,000 per accident - minimum
Property Damage Liability: $15,000 per accident minimum
Most people opt for higher amounts of auto insurance coverage than the state minimum in order to protect themselves in case of an accident.
To learn more about Tennessee's Financial Responsibility laws, visit the Tennessee Department of Safety.
Bundle Tennessee car insurance to save
Purchasing a home insurance policy along with car insurance from Liberty Mutual qualifies you for a multi-policy discount. Learn more about our Tennessee home insurance.
Discounts that help you save
Online Purchase Discount
Buy your policy online and save. It's that simple.1
Bundle and Save
Convenience and savings — need we say more? Combine your policies and get a discount.2
RightTrack
Get rewarded for your good driving behavior by saving up to 30% on your policy.3
Tennessee insurance agents near me
Liberty Mutual Offices in Tennessee
More about auto insurance
1
Discount applies to 12% on average off auto coverages: Bodily Injury Liability, Physical Damage, Uninsured Motorist, Underinsured Motorist, Medical Payments, Personal Injury Protection, Collision and Comprehensive coverages, as applicable by state.
2
Discounts and savings are available where state laws and regulations allow, and may vary by state. Certain discounts apply to specific coverages only. To the extent permitted by law, applicants are individually underwritten; not all applicants may qualify.
3The RightTrack® discount applies only to the base coverages on the participating vehicle, which may include Bodily Injury, Property Damage, Comprehensive, Collision, Personal Injury Protection (PIP) or Medical Payments, Uninsured Motorist, and Underinsured Motorist (subject to state availability), and excludes fixed expenses (where applicable). Initial discount may vary by state and is replaced with a final discount upon completion of a review period. Not available in all states. Coverage provided and underwritten by Liberty Mutual Insurance Company or its subsidiaries or affiliates, 175 Berkeley Street, Boston, MA 02116. ©2020 Liberty Mutual Insurance